Please enter a valid E-Mail address above and we will send you the username and password to get access to our demonstration units.
Click 'Submit' when finished.
Click the link below to view a live internet connected NexPump demonstration unit.
The demo require a username/password. Enter/Submit EMail address above for "Demo Information". (Requires only a valid E-Mail address)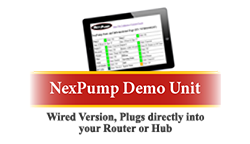 **If demo is unavailable, please try back, we may be in the process of updating or in a demonstration.